The Cuoco aka Chef and Capo of 
I'cchè c'è c'è
 of Florence…
who for the last 20 years has been invited to the 
Georgian Club's 4 exclusive members only clubs to do private Tuscany event cooking
 for 2 weeks and to invite the 5,000 plus members to try the cooking classes that Jacopo and his father, Gino!, graciously give 2 weeks of the year of their precious time towards.! 
"I came to the restaurant at the age of 17 and at the age of 20, after dishwashing and waitering, my father finally started teaching me cooking. He said that I needed to learn the entire restaurant business and what it entailed. I totally appreciated that opportunity. Now, he comes every morning to prep and I am in the kitchen, yet for instance in the morning today for the first time I did my own version of a recipe that has been his forever and he yelledme! I said, Papa, it is the same recipe only a little different and he said no, you always add the ingredients in the order that I say. And he is right since if you add lemon first, say instead of sage if it is usually first, the dish will taste a little more lemony than it should. Yet I wanted to try it my way and I loved it my way yet he did not approve!" he laughs…the generations of change!
"I experiment with new recipes and ideas always myself first in private and if I like it after many tries I let my team try. If the team likes it at that point the regular customers and my personal friends can try the new recipes. And at that time we let the guests try. I rarely make mistakes at that stage since everybody says they love it. And let's see…you asked me if I have any STRESS!  Let's say that I work 17 hr. days and maybe 11 of these hours I am happy and having fun and the other 6 hours are stress! Sometimes it is stress alone and sometimes I am arguing with the team for about 10 minutes letting off steam and the next minutes we are all joking. Yet it is a very hard life and although I do yes love being a Capo, it is a constant project to control and perfect everything. When I am ready for the guests every night I glance from the kitchen and I see that every glass is perfect and the way it is supposed to be and if it is a little different I am out of the kitchen fast and rearranging it. The team knows that. It is difficult to control everything and since you are dealing with guests from all around the world, some things do go wrong at times. I try to talk to each guest yet I am in the kitchen all the time and sometimes I am nervous if everything was alright. I come to the tables after I see that they are smiling!" he laughs. "If they are smiling I know they love my food!"
"You know we have a wild boar stew that we cut into pieces and a grilled wild boar that I do named Cinghiale in umido which I marinate for 3 hours in red wine. It is very different than anybody else's. People love it. It is really the best. And the wild boars don't mind it since there are too many wild boars." We laugh. "They actually have wild boar open season to lesson the wild boars since they eat in the vineyards and destroy crops. We only use the shoulder here since that is the highest quality. And you asked about truffles? We do have truffles when they are in season. You know they search for truffles with truffle smelling dogs, yet they also use truffle smelling pigs! True, I swear to you…the pigs are real fast though and you have to grab the truffles before they eat them!" he says.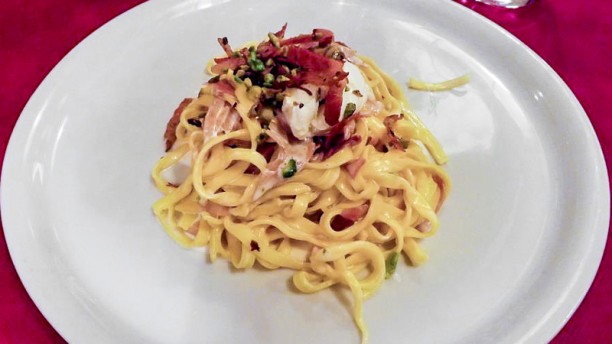 Asking Jacopo's team about their favorite foods, "Everything is good, " Jacopo laughs as he translates his Italian waiter's words, "because Jacopo puts his passion inside plates!" and the Capo laughs saying, "honestly that is what he said, I translated it word for word!" he says. I believe him since later we go inside the kitchen while I watch the Capo prepare my number one special Italian food, Gnocchis! "The only time I ever went on vacation in 28 years and left the restaurant open is when my father Gino was in the kitchen!. And I am constantly on the phone…tell me about that, where exactly did that happen, when did that happen, etc. The stress level is high for me. When I first hired Stefano, who is from Naples he said that he had tons of experience. After the very first night it showed he had zero experience and I sat him down and said that I would train him my way. One year later he can run the entire dining room himself. I love to train my own team since ultimately if they make a mistake that comes back to me making the mistake. The weight is on me. My team doesn't make a mistake, trust me." he says laughing. 
"I guess the most difficult thing about being the cuoco and the Capo is that many things to do as the Capo don't occur in the kitchen. Sometimes I don't want to do them yet it is a job. I have much more fun in the kitchen trying new recipes and loving when the guests are happy with my food, though." he says. Great real Italian team and the Gnocchis were yum!